iPhone Second Generation 16GB
My brother a.k.a Budeen.com and family visited us just now in our house in JB. He and his family took a break and came down to Johor Bahru. After few minutes, he showed me his 2 weeks old iphone 3G 2nd generation (16GB). Wow!!! It's damn cool. It's gorgeous and sleek. I love it. The touch screen is simply magnificent and smooth. The screen is large enough and very comfortable for surfing the internet via safari browser, watching movies and videos, playing games, utilizing the GPS and others. I'm so fascinated with his new iPhone which cost him roughly about RM2700 which he bought from Singapore. He also bought a cover for the iPhone which cost him RM100 (that's just a cover to protect the rear part of the iPhone). According to him, a new set of iPhone (8GB) cost about RM2400. I'm already fallen in love with iPhone and I think I'm no longer considering Sony Ericson C905. I'm going to save my cash for an iPhone now.
Why I have not paid attention on iPhone before?
I have less exposure on iPhone and other Apple products. On top of that, there's no support yet for iPhone in Malaysia. Hence, those who loved iPhone can get it from Singapore. I'm not sure why iPhone is available and supported in Singapore. I also have not yet seen iPhone with my own eyes and experience it. Once, I explored it just now, I know this is not just a hand phone, it's everything. iPhone really rocks.
The only downside in my opinion is the iPhone camera which is only 2MP. I think it would be great if the 3rd generation iPhone come with at least 3.2MP or even better 5MP camera. Nevertheless, I tested my brother's iPhone camera and hey… it's not bad at all.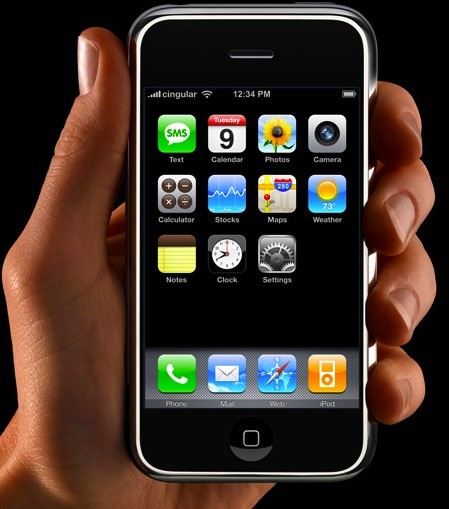 Why I like it instantly?
1. Large and clear screen.
2. Smooth touch pad.
3. Sound system is superb. Almost like the one we experience in movies.
4. Very fast internet connection because it has 3G and HSDPA.
5. Watching movie via iPhone is cool.
6. The games are awesome!!!
7. Powerful graphics and interface.
8. And much more…
And for a real and true experience, have a look at the following videos:

iPhone magic…


Unboxing new iPhone 3G…


Testing iPhone GPS


Share and Enjoy