Maxtra Herbal Coffee – Tasty & Healthy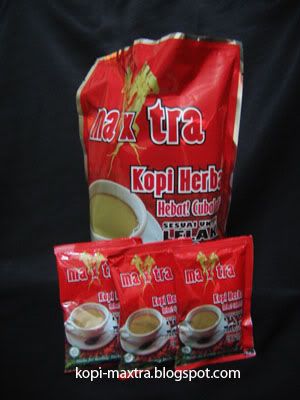 After venturing into an offline business last 2 weeks, I'm now partnering with a company manufacturing good quality herbal coffee. The coffee which is integrates high quality selected coffee beans and important herbs is called Maxtra. The product was just released last week and now I'm helping the manufacturer who happen to be my good neighbour to market the product locally and internationally. Maxtra Herbal Coffee is Halal and I can proudly say that this is a product of Malaysia. The nutritional information was analyzed and reported by Chemical Engineering Pilot Plant (CEPP), Universiti Teknologi Malaysia (UTM).
My Maxtra Herbal Coffee Experience
I was given a packet of Maxtra Herbal Coffee last week for trial and marketing reason. I tasted it and the flavour is brilliant. It is very tasty and delicious. The good part is we are not just drinking good coffee but healthy coffee. The coffee contains several precious and important herbs to help us become healthier and stronger. I'm not going to name all the herbs blended into this coffee. You can refer to the in-official website that I just created: kopi-maxtra.blogspot.com. The herbal coffee help improve our blood circulation and is good for those suffering high blood pressure. The herbal coffee is also good for other illnesses.
One packet of Maxtra Herbal Coffee contains 20 sachets. One sachet is 25g, enough for a cup of meaningful cip of coffee. The recommended retail price for a packet of Maxtra Herbal Coffee is RM24.00. For me it is a value for money deal. You get the tasty coffee and you get to be healthy at the same time. Double bonus!!!
Distributors Wanted
The herbal coffee is not new to those who used to get it from the manufacturer/my friend (neighbour). He has previously carefully manufactured the coffee and it was proven successful. His customers enjoys the coffee very much not only because of the taste but mainly because of the nutrition. Now, he has re-branded and re-manufactured it and the new herbal coffee is as you already know, called Maxtra Herbal Coffee. I'm partnering with him to market the coffee and we need serious distributors nationwide. We need state distributors as well as small mobile distributors. If you or you know somebody who are interested to be a distributor for Maxtra Herbal Coffee, please kinly contact me. The manufacturer is already planning for a massive and aggrasive advertisement and will execute the strategy as soon as we have enough distributors nationally.
Want to try one? You can get from Ebay as well.
Share and Enjoy