Seminar Internet = Duit (Internet = Money) in JB
In the last minute, I registered and attended my first ever internet seminar in UTM. I have not attended any internet making money seminar before. So, when I saw a banner in UTM informing about "Seminar Internet = Duit", I whispered to myself… I must be there. The cost is very cheap compared to the information that I learned just now. I informed my friend Abu and Yaziz about it. They came all the way from Pasir Gudang to attend the seminar in Skudai.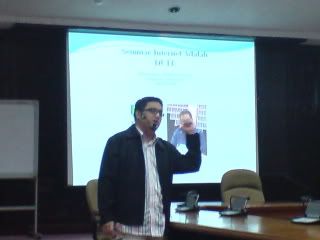 The Seminar Internet = Duit (Internet = Money) was organized by Wanmus and HEP UTM. With only RM40, I consider myself very lucky because I was able to see, listen and meet up with Otai Blalang, ProBlogger Rohaizad and Powerful Affiliate Marketer, Ammar Zahar.
All three of the celebrity blogger/IM were very friendly and cool. I have the pleasure to chat and get some experience sharing with them personally even just few minutes. I'm totally amazed with their hard word, dedication and achievements. Besides all the tips, tricks, techniques that surely we learned in the seminar, I was really touched with the story from Rohaizad and Ammar. Both of them struggled with their life before succeeding in their respective online career. It was not easy for them to begin the business but their perseverance and momentum drove them to be at their position right now.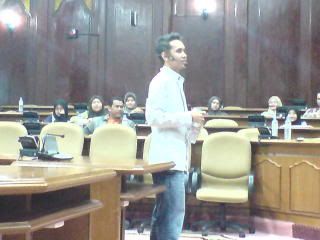 Ammar, 22, a landscape student in UPM amazed me the most. He launched his internet business as recent as June 2008 and amazingly now he is standing at a steady 5 figure income per month. If that does not impresses you, in May 2009, he cash in more than 100k. He really knows his business. If you want to grow your affiliate business, you might want to get hold of Ammar as your mentor. If at 22 he has already earn huge 5 figure income, I believe he'll be a millionaire before 25.
Unexpectedly, all participants received nice and attractive certificate with UTM logo stamped on it. That is one piece of paper going into my certificate file collection.
From left, Ammar, Wanmus, Blalang and Rohaizad. We're very lucky to have all of them teaching and guiding us the tricks and techniques to be successful online. Photos source – Rohaizad.com.
The participants of Seminar Internet = Duit in UTM Skudai. Photos source – Rohaizad.com.
To read other report from the Seminar, please visit: Rohaizad.com , Saveurass, Abu Samah, Blalang & Wanmus.com. For other seminar participants, if you have reported about the seminar in your blog, you can give me your link and I'll put it here. Thanks.
My 2 cents:
If you want to build an online career and be financially sound, please do yourself a favour by attending seminar or courses like this. Even if you've the basic, you'll still learn something new. On top of that, if not because of the precious knowledge, the networking and meeting up with people with similar interest is enriching. I admit, I'm damn lucky to be in this seminar at a significantly reduced slashed price.
This seminar is not like other ordinary seminar. In an ordinary seminar, you cannot wait for the seminar to end. However, this seminar is totally the opposite. The seminar which is supposed to end at 4.30pm was dragged to 5.30pm. The participants showed no sign of leaving the hall. All of us were extremely passionate and tentative, eager and hunger to learn all the secret knowledge of making money from the net…. Coollll.
Share and Enjoy