Ball is round, anything can happen…
Believe it or not, the clock is showing 5.22 am now and I'm not sleeping yet. Yes, it is World Cup season and I just witnessed some unexpected and sad drama just now. We (me and my wife) watched the mighty Brazil defeated by underdog orange Dutch. What an amazing result, but why the heck not…. This world cup has been serving us with tremendous surprises!!!
After that I continued surfing the net, explored few sites, entered and posted in a forum (not making money forum, instead I lingered in a chemical engineering forum) and checked on my blogs. My other half just sigh, looking at her husband's focusing and staring at the laptop…haha… Then the next game started, African sole representative, Ghana versus South American side, Uruguay. It was I can say not an interesting match at the beginning, but towards the end of the 1st half, a long range wonder struck by Ghana's player (I forgot his name) gave Ghana an early lead. 10 minutes after the second half, ex-Manchester United striker, Diego Forlan volleyed a superb free kick into Ghana's goal, leveling the score to 1-1.
The real drama was really at the dying minute of the extra time when Luis Soarez, Uruguay's striker wearing jersy #9 who have so far scored 4 goals in the world cup campaign, stopped the ball from crossing the goal post using his hand (he forgot that he was not a goal keeper!!!) and saw red. Penalty was awarded and it was surely going to be Ghana's way should Gyan scored it. It was God's fate that Gyan shot the top center of the cross bar, denying Ghana both a goal and a semi-final spot. Oh gosh!!! What a missed and what a chance!!!
So, the outcome were be decided from penalty kick and Ghana lost the battle. What a pity. They had their precious golden chance in a minute but few moments after that they were doomed. Well, this is football. This is the drama. We are the spectators. We witness the joy and we see sadness. We feel happy and we feel sad. For me, all this while I only supported the underdogs in the match. So, in this situation, the underdog was Ghana, which rank lower than Uruguay. I just pity them, pity Gyan, pity the players and coach, pity the entire supporters and their country.
It's now 5.44 am, and I'll stop typing in a short while and will hit the bed. Ops…before that, I'll perform my Subuh prayer.
Moral of the story:
The ball is round in shape. Anything can happen no matter how hard we work or how much we pray. God knows the best for us. What we have to do is work consistently and diligently as such that we will live our lives for the next 1,000 years.  At the same time, we need to pray and worship our God such that we will die the next day.
So, you and me, we need to work hard and stay focus in what we do. So, if you are focusing in making money from blogs, than do it right. If you want to flip websites, than do it. If you want to perform Hajj at 40, then adjust and prepare yourself for that. All of it require perfect planning and execution. OK, I need to stop now. I don't know where I will end if I keep on typing here…haha…
In the mean time, in case you are interested to win an Ipad and earn substantial dollar cash, here is a contest launched by Revresponse. Check out the details and I believe you can do that by registering an account with them first if you have not own one yet. I have been making money with Revresponse on a monthly basis and it is seriously very rewarding.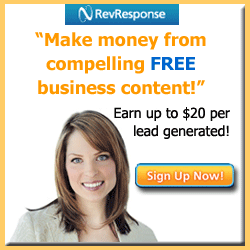 OK, now it's actually 6.10 am… and I'm really going to stop, shut off this white Toshiba laptop.
p/s: Have you downloaded my FREE "230 Make Money Sites" report?
p/s: Get my "Teknik Buat Duit RM1000 Sebulan" at GempakNewbie.com.
Share and Enjoy