Mentors, they are important to me
We are a human being that started from knowing nothing. We grow older and progressively learn many things along the years. When we are small, our main duty is to study, study and study. Nothing else. Yep, nothing else matter…
But then as we approach adulthood, we began exploring various other areas. We explore new interest, new hobbies, new this and new that. For certain things that we want to establish our expertise, we need somebody to guide, monitor and assist us. Those people, regardless of their field of expertise I regard as my precious mentor. They are like a catalyst, something and somebody that can speed the process of us getting to what we aim for. They will show us which path to take and which to avoid.
My mentors
As some of you know, I'm currently pursuing my Ph.D study in chemical engineering and I have a supervisor  (professor) to guide and maneuver me doing research work, writing technical papers and other research related issues. I also have a co-supervisor in Finland which I refer to once in a while.
At the same time, I am also in my quest to be a professional engineer and I have a mentor who is an experienced professional engineer to guide and help me be one. He works in KL (I work in JB) but that does not matter because I  will always meet him every quarterly to let him assess my performance and give advice. Currently he is in Uzbekistan, managing some civil project there. I will meet him when he is back here.
When I was working as a process engineer few years back, I have my senior executives as my mentor. They will share their experiences, knowledge and skills with me. Oh, I miss those days in the plant.
Besides my professional career mentioned above, I'm deeply and madly in love with the internet. I'm not really a fan of those social sites like Facebook, Twitter and Linkedin. I'm only using them to market my brand and communicate with my networks. I'm more towards blogging (part time blogger) and now slowly learning to try my luck selling some digital product online @ Internet Marketer (IM).
For those 2 co-curricular activities, I also have my own mentor to guide and help when I am in need of their advice. Those are people who have more knowledge and more skills than me. I have few person which I consider mentors when it comes to blogging. We are colleagues but at certain times, they are my blogging mentors.
At the same time, I have another IM mentor who is very kind enough to spend his precious time teaching and guiding me when I'm in need of him. His vast knowledge, experience and success in internet marketing inspires me to be a great IM. I'm making myself to be one. Oh God…please make my journey smooth…
When it comes to gold investment, I have 2 mentors, both who are my younger brothers. They have more comprehension and knowledge in gold related matters. They also have invested massively in gold.
When it comes to financial management and investments, I also have a mentor too. We never went through financial subjects or financial management in school nor university. The most we had is accounting and economics. Hence, it is important to have a financial mentor to help and guide us.
Am I a mentor to others?
Hmmm… I don't really know how to answer that. There is no official mentorship going on accept for me mentoring my undergraduate student to do research closely related to mine.
I know some people, including my youngest brother, who maybe consider me as their mentor in blogging and internet marketing. Honestly, I don't consider myself any sort of expert in blogging and Search Engine Optimization (SEO), but when somebody asks about it, I will definitely share. It's my passion and I love discussing about it. In fact I don't mind teaching and guiding those who are serious about blogging and SEO with zero charge. No problem at all.
I hope and wish that I'll be a good mentor to my kids. I want to be a good father and example to them. That's very important. Every body wants their kids to grow and be good and kind people, responsible and honourable, having good career and so on. We (me and my wife) also wanted that and we need to provide the best education and training for them. No matter how it cost, we will get the money to spend.
You are either a mentee or a mentor
Yes you are. If you are not either a mentee nor a mentor, I'm not sure where do you live and what you are.You might not be chasing for something.You might not have any interest in anything. You might not have a career you want to take care off. Maybe you are have not discovered your passion. Maybe you are not yet establish in what you are doing now.
It's really something you need to think off.
Yep, think about it.
…………………………………………………………………………………………………..
p/s: Have you downloaded my FREE "230 Make Money Sites" report?
p/s: Get my "Teknik Buat Duit RM1000 Sebulan" at GempakNewbie.com.
p/s: Untuk pakej haji, umrah dan ziarah, sila lawati laman ini.
p/s: I managed to get a discount of RM100 for FISH seminar (Financially Independent, Strong and Healthy) if you want to attend to the coaching. If you register early (before 1st October 2010), you can enjoy the price of RM2480-100 = RM2380. After 1st October, the price will be increased to RM2680. I'll try to check if there is any installment payment. Anybody interested can contact me to get the application form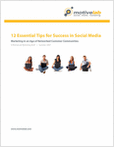 "Social Media Marketing: 12 Essential Tips for Success"
Learn how to effectively engage customer communities with a new, social marketing mix.
Share and Enjoy