Get $50 For Your First Survey!
I would like to add a new alternative income stream here on top of the 7 Method to Choose to be Rich that I published 4.5 years ago and republished 2 days ago. I have not tried this yet, primarily because the lack of time  I'm facing now. However, I would like to share this glorious opportunity to those who may want to give it a try. It looks quite simple. Just answer some surveys and being paid for it.
Well, honestly 6 years ago, I bought a guide on how to make money doing surveys. Unfortunately, after reading the guide and list of websites I can make/answer surveys, all of them do not accept Malaysians to participate (as I'm from Malaysia). They require mostly Americans, Canadians, Europeans and few more limited countries as the participants. How unlucky I was at that time. However, this time, I found out that they have open this offer to Malaysians!!! Sound enticing, interesting and yummy… The company is called GetCashForSurveys… (If you are from other country, maybe you can check it out whether your country is accepted or not). Oh yea… you can click on the image below to visit the website.
The beauty about this is that when you join GetCashForSurveys, you will receive $50 free when you take your first paid survey! This is what they say…  You need to go on and check it for real.
It may sound hard to believe, but it's true (according to them).  There are thousands of companies out there who are willing to pay for your opinions regarding their products.  This is an important part of product research, and they rely on people just like you for your honest opinion!
Imagine getting paid for doing things like:
– Trying out new menu items from popular restaurants
– Take short surveys about new cars that are coming out soon
– Give your opinion about new clothing and shoe designs
Taking a few paid surveys in your spare time can really make a difference in your income if you don't have a serious one today or in the near future.
==== > If you are interested to check it out, click HERE. <====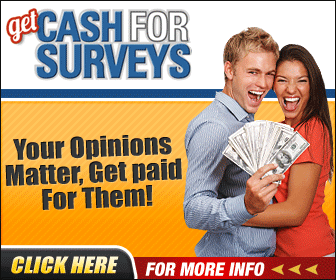 If you like to read my musing, why don't you subscribe to me. Just click here, register and verify your email. You will then get email updates whenever I published my new rambling!!! You can also "LIKE" Cyza Sector Facebook or "Follow My Twitter".
p/s: Have you downloaded my FREE "230 Make Money Sites" report?
Share and Enjoy